The ACLU of Florida, Greater Miami Chapter, Presents "Voting Rights In Florida" Virtual Zoom Forum on March 24, 2022!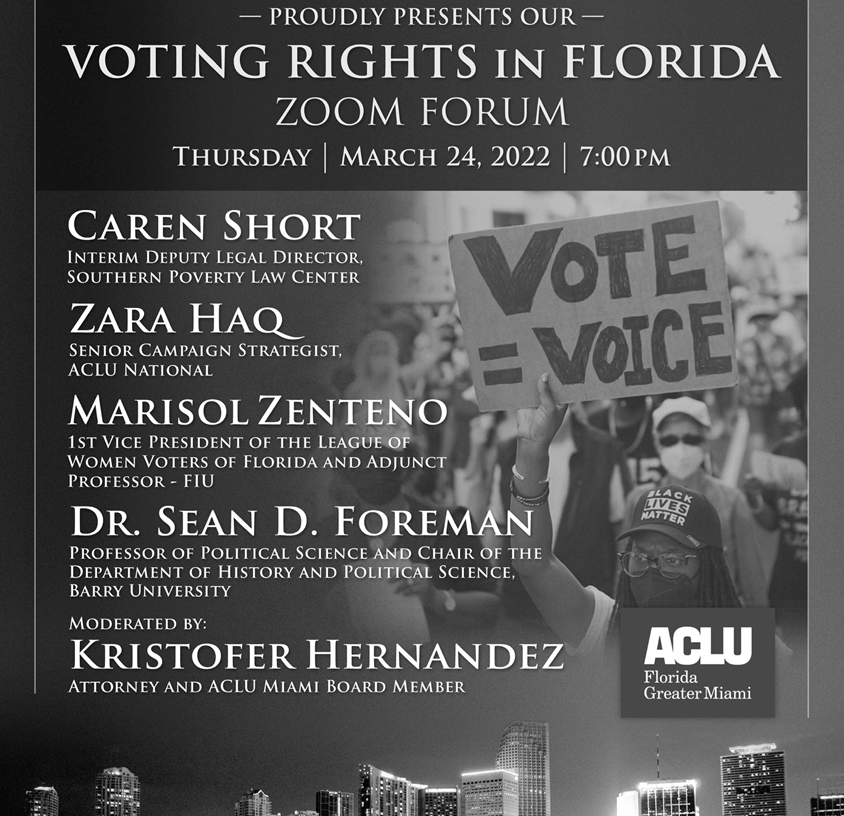 Event: The ACLU of Florida Greater Miami Chapter presents "Voting Rights In Florida" virtual Zoom Forum
Date/Time: Thursday – March 24 from 7pm – 8:30pm

Description: The ACLU of Florida Greater Miami Chapter proudly presents an esteemed panel of voting and civil rights experts for a discussion on what voting will look like this election year. During this discussion, panelists will cover the latest voting restrictions in Florida and throughout the country, how your right to vote may be impacted by these new restrictions, and what is being done to defend your voting rights.
Moderator: Kristofer Hernandez, Attorney, ACLU of Florida Greater Miami Chapter board member
Panelists:
Caren Short: interim deputy legal director, Southern Poverty Law Center
Zara Haq: senior campaign strategist, ACLU
Marisol Zenteno: 1st vice president of the League of Women Voters of Florida, and adjunct professor – FIU
Dr. Sean D. Foreman: professor of political science and chair of the Department of History and Political Science, Barry University
Registration:
Please register in advance for the webinar. After registering, you'll receive a confirmation email containing info about joining.