NAPABA 2022 2L Liberty Mutual Summer Law Clerk Program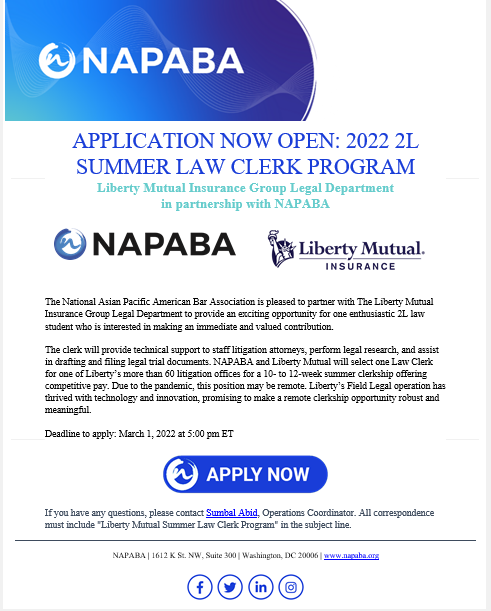 The National Asian Pacific Bar Association is pleased to partner with The Liberty Mutual Insurance Group Legal Department to provide an exciting opportunity for one enthusiastic 2L law student who is interested in making an immediate and valued contribution. As a Law Clerk you will provide technical support to staff litigation attorneys, perform legal research and assist in drafting and filing legal trial documents. NAPABA and Liberty Mutual will select one Law Clerk for one of Liberty's 60+ litigation office a 10 to 12-week summer clerkship offering competitive pay. Due to COVID, this position may be remote where Liberty's Field Legal operation has thrived with technology and innovation, promising to make a remote clerkship opportunity robust and meaningful.
Deadline: March 1, 2022, 5:00 pm ET
View website to apply.